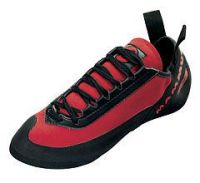 Manufacturer:
Mammut



This item may be available at:
Description
FEATURES
It is extremely lightweight, thanks to the synthetic leather upper, which prevents the shoe from becoming over-stretched. The result is a perfect fit, supported by a midsole. Another practical feature of Flame is its rapid lacing
1 Review
Review
Review by: daisuke, 2004-04-03
Never an outstanding shoe brand, the flame makes for a decent climbing shoe on faces and pockets. The rubber is a special mammut mix that sticks decently (and better in any case than the latest abortion concocted by boreal). It edges well, smears ok and is quite asymetric which makes it rather painful to wear but useful on steep walls. My version was the older leather one and they stretched, it seems that they have since changed over to synthetic which will keep it from doing so so don't undersize it. There are better shoes than the flame out there, and there are also worse.