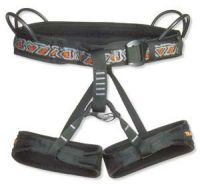 Manufacturer:
Trango



This item may be available at:
Description
Using die-cut laminated foam construction we have created a harness which is the perfect blend between a traditional free-climbing harness and a sport climbing or competition harness.

The Fly weighs in at a mere 328gm for a medium, so for less than the weight of your standard comp' harness, you can comfortably hang in a fully tricked out craggin' rig.

∑ four gear loops
∑ belay loop tests to over 9,000 lbs.
∑ haul loop
∑ quick-release elastic rear risers
∑ double-back buckle that shouts DANGER when itís not back threaded.
∑ CE
∑ sizes: XS-XL
1 Review
Review
Review by: vertical-rockrat, 2004-03-04
I have a older version of this exact one i compared them when looking at a new harness. They both have small back pads which seem to cut in when you have to hang out for a while. Otherwise it is a good harness for the price, not hard to adjust and has the 4 gear loops which allows for all you need on sport routes. The Buckle is red so you can remeber red is dead to insure you do double back.