G60 10.5mm x 60m Non-Dry Rope
Item Details
|
Reviews
(
3
)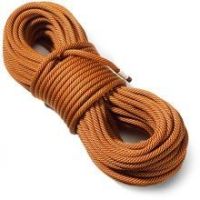 Description
G60 10.5mm x 60m Non-Dry Rope
3 Reviews
Review
Review by: nmoroder, 2005-04-09
It's okay, not the best rope I've used. The sheath is fraying at a very quick rate. The price was great. I'd maybe give it a 4, but I'm in a bad mood.
Review
Review by: grimpiperx, 2004-12-08
I like this rope alot is is really durable and not too heavy. I was out one time with it and it started pouring kinda left me wanting a dry-rope as I had to haul it like 4 miles.
Review
Review by: ladylayback, 2004-10-10
I love my G60. It has remained soft and smooth after running over some sharp rock. It also has great flexibility, very easy to fit in an ATC. At first I thought the pattern was hiddeous, kinda like the great pumpkin, but the more I belay with it, the cooler the pattern looks.