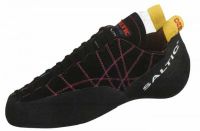 Manufacturer:
Saltic



This item may be available at:
1 Review
Review
Review by: saskclimber, 2004-05-22
This was my first pair of climbing shoes, and they did a really good job of introducing me to climbing. They were really comfortable (after they broke in), and they held up really good. The Saltic Extasy rubber is pretty decent too. It's more durable than the C4 that I've since put on them. I still go back to these shoes when my feet need a break or when I'm breaking in a new pair of shoes. They smear good, edge good, and healhook too. The fit is really good on these shoes. The last is relatively neutral, but they can climb pretty aggressive if you have good footwork. The heel fits really good too. The only drawback is that they stretched quite a bit, even thought they are lined shoes.