GigaPower GS-010
Item Details
|
Reviews
(
1
)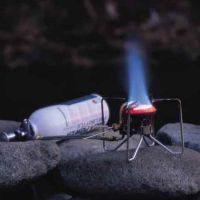 Manufacturer:
Snow Peak



This item may be available at:
Description
Snow Peak introduces the GS-010 GigaPower Stove. The ultra-light white gasoline stove that requires no priming, has precision flame control, and burns 10,000 BTUs clean and quiet.
No priming needed! Safer, quicker and not frustrating.

Precision flame control for simmering, you can adjust flame as you would on an isobutane stove.

Fully assembled, the GS-010 stove weighs 12.5 oz. (354g). This includes stove, pump and hose. The fuel canister and cap weigh 4.75 oz. (135g).

Fits in the palm of your hand.

Built-in windscreen.

Compact, stows in Snow Peak cookware.

2001 Editorís Choice Award for the 12.5 oz. GigaPower Stove, White Gasoline.

***Notice: This stove has a very unique ignition system. To insure your safety, it is extremely important to read and follow the lightling instuctions from the GigaPower GS-010 Stove instruction manual.
1 Review
Review
Review by: skidawg, 2005-01-15
I have had this stove for more than a year now, and love it. This think is like a jet, it puts out an incredible abount of power, and is extremely efficient as far as using fuel goes. It also says that only the coleman fuel can be used with it, but you can use many fuels (it's just better to use the cleaner/more efficient coleman fuel). The windscreen is incredible on this thing too...it works very well, even when I blow really hard into the flame, and is hard to put out. When you shut the fuel off, a needle cleans the jet valve also, which they don't mention on the box either. Another big plus is that is is very small, and very very light. The legs extend better than any other stove I have used, and is very easy to position for a stable cooking surface. When they say you don't need priming, they mean it too. You turn it on (I found it's best to turn on the tank with the adjust valve closed on the unit itself, and then turn the adjusting valve open slowly while igniting) and light it...no pools of fuel like the ultralight, of course not as good as gas, but pretty close to it. I had a little trouble lighting it in the mountains in snow, but it did work well while my buddies stove didn't. One thing I can complain about though is that the gasket did go out after about a year of use, which I found quite surprising (good thing they come with an extra, or I would have neen hosed). I think the price is also extremely rediculous (I got it on sale though, so it was a good deal for me). I have used many stoves, and feel that this one excells above the others.