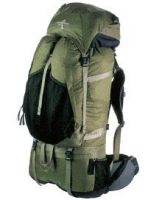 Description
As a lightweight workhorse, it adapts to the needs of most extended excursions. Its prefered for its narrower profile, streamlined features, and optimal carrying capacity.
5200 cu in
1 Review
Review
Review by: roc-dude, 2004-04-26
Had this pack for about a year. It is simlar to the Terraplane but does not carrier the weight as well. The mesh over the front pockets is night to keep items which you will be getting out often. I sold the pack and went back to the Terraplane. The stay system made the weight rest to much on my shoulders. I would recommend spending a little more money and getting the Terraplane it just carries the weight better. Sometimes you can find this pack on sale for around $150 at that price it is a steal.