Guardian Purifier System w/ViralStop
Item Details
|
Reviews
(
0
)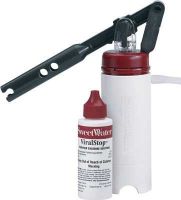 Description
A Killer Value in Outside Magazine's Gear Guide!

"A single adapter fits the 11 ounce filter snugly to Nalgene bottles and Platypus containers; a two-liter Platypus is included." - Outside Magazine

Water filters are everywhere. To qualify as a "purifier," however – one that actually kills viruses and other nasties – a system must meet a stringent EPA standard. MSR has come up with a clever way to do so with their new Guardian Purification System. Built around their Guardian microfilter – which quickly and easily filters out bacteria and protozoa – the System adds ViralStop, a chlorine-based purifier. Filter your water into the included 2+ liter bottle, add 5 drops per liter of the ViralStop solution, wait 5 minutes, and shazam: pure water.