Guide Microfilter
Item Details
|
Reviews
(
3
)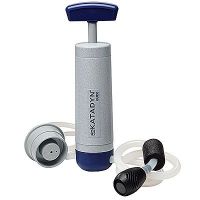 Manufacturer:
Katadyn



This item may be available at:
Description
​​​​The low maintenance design and high output of the Katadyn Guide make it the ideal filter for large groups and extended backcountry trips.
Features:
The AntiClog pleated cartridge has a large, 143 square inches of surface area which means it pumps fast
The cartridge filters down to 0.3 micron in size, effectly removing giardia, cryptosporidia and other bacteria and protozoa
An activated carbon core absorbs chemicals and unpleasent tastes from the water
A prefilter removes larger debris to extend the life of the main element
An ergonomic pump handle and ribbed filter housing make pumping effortless and sure
Included bottle adaptor reduces spillage and fits many outdoor water bottles, including 16- and 32-ounce NalgeneŽ bottles
Carry case included
Specifications:
Weight: 14 ounces
Dimensions: 9.5 x 3.5 inches
Filter element: Glass fiber
Element pore size: 0.3 microns
Output rate: 1 liter/minute
3 Reviews
Review
Review by: thetroutscout, 2006-02-06
This pump rocks! My Boy Scouts spent a week long camp last summer using this filter. We pumped at least 50 gallons of water that week. Pumped worked great the whole time. It's fast! We put my old sweetwater against the Guide and the Guide took it to school. From that point on everyone used the Guide. I love the adapter for the naglene bottles. Slap it on, pump away and a min. later your bottle is full. This is a pump to have with groups. After that whole week the filter looks great. This is a wise investment.
Review
Review by: dynoclimber, 2006-01-06
They should rename this think old faithful- it is a geyser and always works as expected. I highly reccomend his filter.
Review
Review by: jimdavis, 2004-09-30
The Katadyn Guide is one of the best filters out there. It is the fastest I've ever heard of, filtering a liter of water in 30 seconds (with a new cartridge, and 41 seconds after a lot of use), it is very reliable, and fairly compact/ light.

The Hiker is a little lighter, but takes about 3x as long to filter water, making the Guide the choice for big groups and base camps.

The Guide's filter is also not a ceramic like the MSR, so it won't break on you in the field. Also, the it has over 120 square inches of surface area on it's filter, compaired to the MSR's 8 square inches, so it is far less likely to clog on you.

It's plastic output hose end fits on Narrow Mouth and Wide Mouth Nalgene bottles, and has an optional adapter that screws directly onto Wide Mouths. It also comes with an adapter for Quick-Fit hydration systems.

It only weighs a few ounces more than other filters, and is remarkably faster and easier to use. If weight is not your #1 concern, consider this filter.