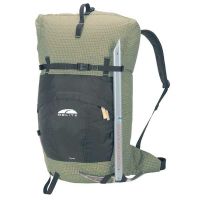 Manufacturer:
Go Lite



This item may be available at:
Description
from REI.com:This spacious ultra-lightweight pack hauls gear for multi-day hiking, ski and winter trips, and vertical climbing without sacrificing comfort.
* Top-loading pack omits a lid and uses a cinchcord lock to close extension collar and an adjustable buckle strap to compress and secure load
* Features a zippered front pocket for holding often-used essentials, allowing quick and easy access
* Padded shoulder straps, webbing/fabric hipbelt and a contoured foam back comfortably support loads up to 30 lbs.
* Angled oversized delta fins on hipbelt pull diagonally across hips, weight is transferred to the lumbar and pelvis region where it rides comfortably
* Dual tool loops and retention straps allow you to lash on winter gear to pack's exterior
* Constructed of DyneemaŽ gridstop fabric for added durability and light weight
* Specifications for torso/ waist and hips/ base volume and weight are as follows: Small - 16-18 in. / 42 in. max / 4,500 cu. in. / 1 lbs. 2 oz.
* Medium - 18-20 in. / 42 in. max / 4,800 cu. in. / 1 lbs. 4 oz.
* Large - 20-22 in. / 42 in. max / 5,100 cu. in. / 1 lb. 6 oz.
3 Reviews
Review
Review by: toml, 2005-05-13
This is pretty much the perfect pack for those who are considering buying it (not for the average backpack user). I have used it extensively while mountaineering, ranging from winter mountaineering to the Himalaya. It performs very well, with things pared to the bare minimum, but no less. Even when filled to the gills the load stays out of the way.
Quibbles: the kangaroo pouch isn't very durable, I've put a fair number of little holes in it over the past 2 years. That being said, the rest of the pack is bombproof. Also, a sternum stram would be nice, just to keep the shoulder straps well behaved while 5th class climbing (they have simple straight foam padding inside so they tend to want to go in odd places).
Now if only it came in smaller sizes...
Review
Review by: athikerol, 2004-05-25
I just got it, had it out 3x but LOVE IT so far! Light as a feather with plenty of room. Rarely needed the hipbelt on a 5 day trek on the Tuscarora Trail. Helped me get my week-long backpacking load down to <30#, and that's for 25 degree weather, give or take. Not for those who like pockets, you have to think before you pack, but it'll hold all my climbing gear, once I'm done GETTING all my climbing gear...
Review
Review by: orangekyak, 2004-01-24
GoLite Gust pack, how do I love thee? Let me count the ways ...
-One .. you're so light, but you fit so much stuff.
-Two ... You don't mess around with a bunch of extra bells and whistles that I don't need
-Three ... Your webbing hip strap is nice to have around, but you're so light that I rarely use it.
-Four .. the features that you do have - tool loops, front pocket, drawstring top - are all very useful and right where I want them
-Five ... you're priced well! I can afford you!
Six ... see number one.
[b]Cons:[/b]
-Not for folks who want to carry more than 20-25 lbs. I usually only carry 12-18 or so.
[b]Value:[/b] A+ ... great gear, great price