HB Climb High Quickdraw
Item Details
|
Reviews
(
1
)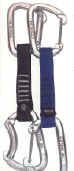 Description
These quickdraws from HB Wales are great quality at an affordable price. The gates have a great action which makes clipping a dream. Specs: Weight 52g, Diameter 10mm, Gate strength 24kN, Gate 20mm.
1 Review
Review
Review by: rockn_j, 2004-07-30
Cheap as chips! Very good product for the price. The biners are a bit bigger than most. These are budget price quickdraws, but not budget quality. They are a bit heavy compared to the top of the range ones, but are aimed more at the beginner or intermediate climber. I bought the solid gate version. The gate has a resonably smooth actionand is stiff enough that gate flutter is not really an issue. If you need a couple of draws but don't want to crack open the piggybank these are for you. Perfect for pennypinchers like me.