HMS Autolock
Item Details
|
Reviews
(
2
)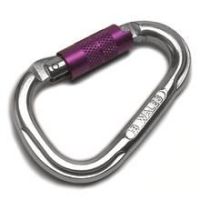 Description
* Large gate opening makes it easy to clip-in to harnesses and ropes * Ideal for belay, anchor set-ups and critical tie-in points * Hand-friendly pear shape with large gate opening makes it comfortable, convenient and easy to use * Made of cold-forged aluminum rod stock for superior strength and durability Specs Weight - 90.7 grams Strength major axis open - 8.0 kilonewtons Strength major axis closed - 25.0 kilonewtons Gate open clearance - 25.0 millimeters
2 Reviews
Review
Review by: omenbringer, 2004-04-29
a good belay biner, a little to large for my tastes to use for conecting anchor points to a cordelette, though they have some utility for the master point. Also agree that this carbiner has a great action.
Review
Review by: sarcat, 2004-04-14
This is my favorite biner of all time. I use them all over because of the large gate opening and the ease of opening the gate even when sketched. I have 8 and just ordered 4 more.