HMS Screwgate
Item Details
|
Reviews
(
3
)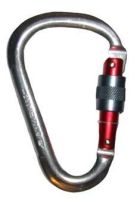 Manufacturer:
Mammut



This item may be available at:
Description
Mammut's HMS Screwgate is a classic HMS, perfect for belaying from a harness or with a Muenter hitch.
3 Reviews
Review
Review by: jankymutt, 2006-05-17
Good biner. Locking action started getting dirty and wearing out after 6 months of use, but I guess that is expected for a well used locker. I got it as part of a belay package so I'm not too worried about it.
Review
Review by: dr_fil_good, 2005-08-10
Love 'em. I still haven't warmed to the whole twist lock and ball lock bina's yet. HMS binas are brilliant too - I've got quite a collection of them - in many situations I've had them all involved in the rig somehow.

One of my favourite things about the screwgate as opposed to other locking gates is the fact that you can screw it up with any pat of your body you can run accross it. This doesn't mean much in most situations but I've had to use all sorts of body parts in a few occasions in self rescue after a solo climb gone wrong.

Love 'em
Review
Review by: lucas_timmer, 2005-01-04
Easy locking HMS carab,bit pricey buts thats usual with Mammut.Can hold up to 24 KN in length and 7 KN sideways or with a open clip.Nice colours as well.