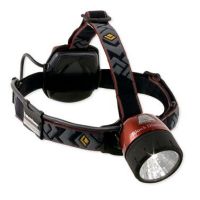 Description
*Three clustered SuperBright LEDs for superb proximity lighting *New custom-engineered reflector allows for the use of a Searchlight Bulb *Redesigned tilt housing and dual-density battery box for better function and fit Only weighs 217g with batteries, and the battery life is amazing using the 3 LED lights. 220 hours on 3 AA batteries in LED mode, and 3.5 hours with the Xenon halogen bulb. The distance ranges from 15m when using the LED mode, to 110m when using the Xenon halogen bulb.
1 Review
Review
Review by: dustinj1039, 2005-05-19
Great Lamp! The Lamp give more than ample lighting to any situation you may come across, at a price that you can't beat. Very comfortable fit, reliable, and the quality for the price is definitly the selling point.