Helix Ziplock
Item Details
|
Reviews
(
2
)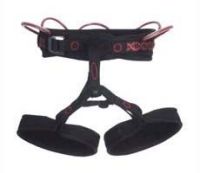 Description
All new Stainless Steel Ziploc Buckle system allows for easy micro adjustments any time, and stays doubled backEasily fit range will accomodate layers of clothing or lack thereof
Features:
Five gear loops
Batwing waistbelt matches your anatomy
Elastic internal leg tensioner
High-strength Finotex® belay loop exceeds three tons
Waist Size
Small: 70-89 cm/28-35 inches
Medium: 78-96 cm/31-38 inches
Large: 88-106-94 cm/35-4
2 Reviews
Helix Ziplock
Review by: dirko, 2006-11-19
After using this harness in three countries and on five walls, as well as for numerous free climbs, I have come to know it well.

This harness stands out from others because it has many gear loops, a haul loop, and no unneccesary features, like that plastic crap that Petzl has become fond of as of late. You really can use it for walls, and of course it free climbs just fine. The fixed leg loops are a boon if you often climb wide cracks.

Gripes: Eventually I climbed enough chimney to shred the rear elastic at the point where it connects to the leg loops. The local sewing shop tacked it back on, but I have not had this problem with any other harness. The old double-back style buckle on last year's model, which I strategically left in the Hidden Valley campground, looks to be more durable, if you are really getting in a lot of climbing days. The old version, if you can still find it, gets five stars.

In brief: No extra bells and whistles, but has the requistie trad features: buy it.
Review
Review by: hairyapeman, 2005-08-10
This was and still is my first harness. I bought it due to its in-expensiveness and ease of use. It is a great begginer harness but for the aspiring climber i would reccomend getting somthing else. I don't have any other suggestions cause the only other one i have used was the rentail harness in the gym, and this kicks that ones butt! I would like to have adjustable leg loops and bigger gear racks, as for trad climbing these loops can get quite crammed.