High Sierra Climbing
Item Details
|
Reviews
(
1
)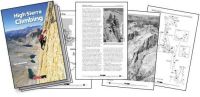 Manufacturer:
Other



This item may be available at:
Description
Over 25 of the best routes in the High Sierra from ridge traverses to 12-pitch faces. This book focuses on climbs in the 3rd class to 5.7 range, but also includes the Sierra's best hard routes. Approach detail like you have never seen before: USGS maps, photo-diagrams, and detailed written descriptions. Spend less time approaching and more time climbing! As in all SuperTopo books, the author personally climbed and documented each route to create the most detailed and accurate topos ever.
1 Review
Review
Review by: maculated, 2004-10-02
Chris McNamara is your friend; you just don't know it yet. Reading his guidebooks is akin to sitting down to coffee with a map, him furiously scribbling out a topo on a napkin whilst interjecting enthusiastic selling points like, "This move is wild!" McNamara (a prolific and accomplished aid climber and founder of the American Safe Climbing Association) hit the big time when he published Yosemite Valley's Big Walls guide in 2000, which became a beloved part of any Valley climber's collection – most of us lovingly dog-earing and writing notes in it while gazing up at El Capitan from the meadows below. With its resounding success, McNamara has been encouraged to produce a number of free-climbing guides available as downloads or in print focusing on outstanding, world-class routes available throughout the Southwest United States. High Sierra Climbing is the latest in this series.

McNamara dubbed his publishing company "SuperTopo" and super these topos are. Intimately detailed with rack recommendations, recommended belays, pitch lengths, and section difficulties, the author steps up the "Super" in High Sierra by including marked topographical maps designed get you there with ease. This book has it all: intimate beta, good directions, and sound advice for anyone seeking to get off the beaten path and onto some spectacular Eastern Sierra formations.

The SuperTopo series is aimed at your average weekend warrior: McNamara's guides typically select only the most classic of routes that you absolutely must do in the time you have to visit. To those who don't have the benefit of a local in their back pocket, SuperTopo is a godsend, often to the consternation of those in the know who don't want more people in on their favorite climbs. He addresses visitors' needs by listing amenities, weather beta, and even ways to be best prepared.

In a growing industry of cookie-cutter format guidebooks, SuperTopo is as grassroots as it gets, McNamara's family and friends contributing their expertise to produce the guides. Design editor Felchlin's design is smooth, attractive, and accessible. One of the hallmark qualities of the guide is the engaging Steve Roper, who manages to give you an exciting, in-the-trenches account of the history of your chosen route. Some of the most fun writing is that of McNamara himself: his enthusiasm for climbing, the guide's production, and your ensured good time marks itself even if he doesn't sign to it. It's a shame that he doesn't do more of the actual textual content of the guide – his voice makes for a delightful and enticing read.

Along with this grassroots production, however, come a few negatives. The printing quality of High Sierra leaves many of the aesthetically intended photographs blurry at best, their black and white rendering removing much of the majesty and sense of depth to the formations. The photos displayed as topos, however, are well-marked and well-placed throughout. There are numerous typos, inconsistencies, and occasionally slightly misleading or assumptive advice (occasional directions to climbs based on estimated hiking time to trail changes rather than by landmarks), as well – but one of the wonderful features of SuperTopo, which becomes obvious when visiting the company's website <http://www.supertopo.com> is that McNamara makes it a goal that his beta is "Always Fresh!" Supplemental online databases offer up-to-date information on conditions, changes to topos, and other pertinent information that previously only talking locals would yield. McNamara makes it a personal goal to be responsive to all feedback, incorporating new routes, better beta, and more of whatever the public demands in revised editions that become available as need dictates.

One of the largest benefits to SuperTopo is its option of traditional print guides or downloadable e-books. A climber on a last-minute trip can get detailed beta at two in the morning the night before and relax in the knowledge that for three years after purchase, any updated information made available in flexible e-book form can be his or hers. E-books also lend themselves well to specific routes: for most multi-pitch adventures it makes more sense to tear out a page and keep it in your pocket – destroying the orderliness of your text. With e-books, printing out the needed beta is simply a mouse click away, lost pages instantly renewable.

A climbing experience without SuperTopo can seem like a cold and lonely one after you've been introduced. After all, whatever route you are on, in some way it has to be "the best!" because your mate sincerely wants you to have as good a time as he does.

Kristin Tara McNamara is happiest when she's summiting in the High Sierra and is of no relation to the SuperTopo author, so quit asking already.