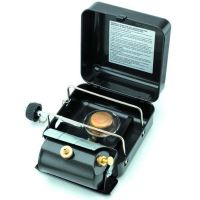 Manufacturer:
Optimus



This item may be available at:
Description
No. 111C HIKER is the upgraded version of the classic 111 Hiker, fitted with the Cobra-burner. The colour is hammer black.
Optimus No. 111 Hiker is widely reputed as The Himalaya Stove. The Hiker has conquered the Poles and the Himalayas over and over again. The stove is at ease with working at high altitudes such as 6.000 m (appr. 19.500 f). Hiker has been the choice of proffessionals, military units (i.e. U.S. Army) and aid projects all over the world - for more than 50 years. Why?
Output.
The already incredibly powerful Hiker has been boosted. Output is now increased by some 20%.
Accurate flame control
, from simmer to a roaring boil. The risk of charring food is minimised.
Fuel flexibility.
The Hiker is a multifuel stove. Wherever you go, you will be able to find fuel for your Hiker.
Reliability and sturdiness.
We have lost count of how many field tests and expeditions this stove has passed. Users frequently report that the unique cleaning needle that clears the burner jet when the stove is in use is a prime feature.
Ideal for high altitude base camps, arctic expeditions, outdoor cooking for families, group excursions, canoeing, boating, globetrotting, dog teams, houshold cooking in remote areas etc.
TECHNICAL SPECIFICATIONS
Fuels: Kerosene/paraffin, white gasoline/petrol, diesel oil, methylated alcohol/spirits and Coleman fuel.
Weight: 1640 grams/58 oz.
Measurements: 105x180x180 mm / 4.1x7.1x7.1"
Rating: Appr. 3.000 watts/10.000 BTU
Burning time: Up to 2 hours on one filling (0.35 litres/12 oz.) at high output.
Boiling time, one litre of water: down to less than 3 minutes (varies with fuel, climate, altitude, tank pressure etc.).