Himalaya Multi-Fuel
Item Details
|
Reviews
(
4
)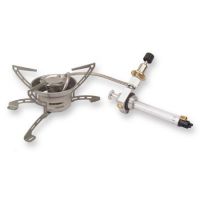 Description
The ultimate expedition stove for unlimited use year round. The patented Primus design is able to withstand the harshest conditions and runs on all fuel types, even those found in only the remotest parts of the world. In addition to LP-gas canisters, it runs on white gas, gasoline (petrol), kerosene, and other similar petroleum fuels including diesel. Turning the fuel bottle upside-down turns off the stove and bleed the fuel line. No spills, no flare-ups. Awarded Editorís Choice for 1998 from Backpacker Magazine.
Comes with fuel pump, kerosine jet, cleaning needle and service tool.

Boils 1 liter of water in 3.5-4.5 min. (depending on fuel)

Output: 10,000 BTU's

Weight: 16.6 oz. / 470 g
4 Reviews
Review
Review by: fearlessclimber, 2005-10-27
This stove is the ultimate expedition stove, while i was on a 20 day trip in peru mountaineering we had to use diesel, normally clogging the stove, it work great with minimal cleaning.
Review
Review by: fanederhand, 2005-05-16
Was one of the rist on the block to get this stove. It works well and the best part is that you can use gaseouse fuel with it. Gaseouse fuel is cleaner burning and does not need priming. Nice thing about this stove is that you can warm it up using a canister and switch to liquid fuel without haveing to prime it. (be carefull going the other way). It is a bit heavey and a little touchy to simmer but once you get used to it it does great in all kinds of temperatures.
Review
Review by: rockmaninoff, 2004-08-21
Expensive and a bit heavy, this stove has worked well for me using butane cartridges and white gas in a pump bottle. The stove did burn more dirty than my Whisperlite when using white gas, but the flame is also more adjustable. This stove has mostly metal components (such as the pump), which make it a heck of a lot more durable than some of the competition out there. Getting this stove to work well can be something of an art...
Review
Review by: maxter, 2004-07-06
I ran this stove on w/gas, regular gas, kerosene and charcoal starter. Stove would clog after one bottle of fuel. Stove had to torn down and cleaned or put up with a very low heat out put. Stove was not dependable and might not be serviceable under severe conditions.