Hostile Takeover
Item Details
|
Reviews
(
2
)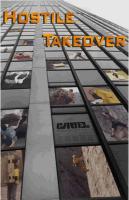 Description
Follow the Cartel as they embark on a revolution in climbing videos. This first installment features bouldering, sport, and trad from Boone, NC; Fontainebleau, France; Joe's Valley, UT; El Potrero Chico, Mexico; and many more locations throughout the US.
Hostile Takeover breaks the mold of modern climbing videos, focusing on the rush that everyone can get from climbing, rather than the grade pushing done by a few untouchable elite climbers. There is no ego in Cartel's new film. Only a sense that the people on film climb because they love it, even if they can't afford it.
2 Reviews
Review
Review by: manacubus, 2005-04-07
Probably the worst climbing video I've seen. The editing and camerawork are very amatuerish. I can't believe someone actually rated this 4/5. The other reviews I've read on the net certainly agree with my assessment. 2/5 is generous.
Review
Review by: cliffhanger9, 2004-07-20
As it says in the description, this is a different kind of video. Most videos, at least the ones I've seen, focus on specific climbs and they show different people and all the trys and sort of build up from failure to send and really beat the line to death and the grades and all. This one I did not see one grade the whole time which I think is kinda cool because you can focus on the elements of the climb instead of numbers which dont really mean anything anyway.

Anyway, they do a pretty good balance of climbs: bouldering and sport at differnet places around the world and they have fun doing it :) There are a few good, creative themes in some of the scenes like Maki Balboa vs. Supercrack :)

Camera work, music, and edits are well done. one thing I can't stand in videos, is when the climber is in the middle of the send and they cut and go to another song - Cartel doesnt do that...background music is smooth and fitting to the climb

Keep up the good work guys!!