How to Climb: Self-Rescue
Item Details
|
Reviews
(
2
)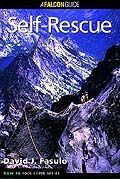 Description
This book fully describes and illustrates a variety of techniques that every climber should know for safety and self-reliance. Whether you need to assist your partner past a difficult section of a climb or rappel down a multiple pitch route with an injured climber, you owe it to yourself and your fellow climbers to be prepared.
2 Reviews
Review
Review by: smt2003, 2005-07-25
This book has plenty of usefull info in it. I think it could still be longer. Chapter 1 is like one page. The chapter on aid climbing is pretty brief and basic. I'm not a strong aid climber and would have liked a little more. The book has some good knots that I never knew. The rescue stuff is pretty cool and usefull. If you are a total beginner, it is definetly worth getting. If you know a fair amount of stuff, it is worth looking over, and that is about it.
Review
Review by: cadaverchris, 2005-03-16
I love this book. I bought it after climbing and leading top rope trips for several years. I took an AMGA top rop site manager course and found this book put me at the head of the class.

Whether you aspire to be a rock guide, or you just value your partners and your own life- belay escapes, ascending, leader rescues, passing knots, multi-pitch lowers- soo much good stuff. Rigging, scenarios, what-ifs and multiple solutions based on the specifics of the situation. Very thorough.

its well organized, well written, beautifully illustrated. It is amazing how many cartoon illustrations are in this book. It makes learning the content very easy.

the only thing this book can't do, is practice the rescues for you!