How to Rock Climb!
Item Details
|
Reviews
(
9
)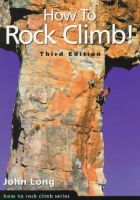 Description
From the How to Rock Climb Series. How to Rock Climb!, this time in its third edition, has always been the most thorough rock climbing instructional book on the market. All the fundamentals--from ethics to getting up the climb--are presented in Long's classic, rib-splitting style. Totally updated to reflect today's standards in equipment, technique, and training methods, How to Rock Climb! gives beginning and intermediate climbers an edge. Inside are tips from improvement--and staying alive! Includes a glossary of terms and quick-reference index.
9 Reviews

Write your own Review


Read all 9 reviews
Review
Review by: blake_wrinn, 2006-06-13
The newest edition is the best "how to" climbing instruction book i have ever seen!
Review
Review by: mgoodro, 2005-05-02
You can't learn everything from one source, be it friends, books, or professional instruction. This is a great book to fill in the pieces and to review the basics. The level of detail is surprising for a guide this brief. The writing style is generally easy to understand and the illustrations are usually very clear. This is a MUST READ for beginners and recommended for anyone who climbs, along with Long's Advanced Rock Climbing, Climbing Anchors, and More Climbing Anchors.
Review
Review by: pjcozzi, 2004-11-07
This is an excellent book for beginners but not without it's flaws. On the up side, it contains a ton of useful, practical information for beginners. The book contains a fictitious story about two people learning to rock climb that is built up each chapter, which adds a nice touch.

The major flaw is in the book's organization. It wasn't organized with the beginner in mind. For example, top roping is explained in the section on training. Top roping may be training for an experienced climber but to the beginner, top roping should be a whole chapter in itself and you'd expect the training section to contain tips for physically training.

I believe a much better but less popular intro to rock climbing is Rock Climbing: A Trailside Guide by Don Mellor.
Review
Review by: rockmaninoff, 2004-07-22
For beginners learning how to sport climb, this is the book to get. If you're more interested in trad, pick up Freedom instead.
Review
Review by: dontfall, 2004-05-19
handjammer48 said it just well