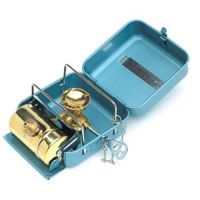 Manufacturer:
Optimus



This item may be available at:
Description
A classic sturdy white gasoline stove with compact measurements. Contained in a steel case that also acts as wind shield. No tricky assembly procedures, just open the lid and slide out the tank.
The HUNTER is a no-nonsense, reliable backpacking stove with self-pressurizing burner. Operating without a pump, the Hunter produces enough output for ordinary outdoor cooking. If desired, output can be increased by using the optional Midi Pump.
The HUNTER is yet another Optimus stove used by the U.S. Army. It is also widely used by educational programs throughout the world.
As other Optimus stoves, the HUNTER features the unique cleaning needle that allows you to clear the burner jet while using the stove. Output adjustment is accurate without lags.
The HUNTER is suitable for any purpose where stuff volume, sturdiness, reliability and simplicity in use is important. Ideal for lightweight hiking, camping, biking etc. HUNTER is also an excellent choice for the first-time user of liquid fuel stoves.
TECHNICAL SPECIFICATIONS
Fuels: White gasoline, Coleman fuel.
Weight: 650 grams/23 oz.
Measurements: 80x135x135 mm / 3.2x5.3x5.3"
Rating: Appr. 1.200 watts/4.000 BTU. With optional midi pump appr. 1.400 watts/4.700 BTU.
Burning time: Appr. 50 minutes on one filling (0.10 litres/3 oz.) at high output.
Boiling time, one litre of water: Appr. 12 minutes. With optional midi pump appr. 8 minutes.