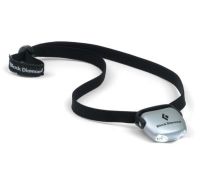 Description
If you need to leave most of the "ten essentials" behind, make sure you keep the Ion on the short list. This LED headlamp is so light and microscopic that it can go anywhere. With two SuperBright LEDs offering proximity lighting for 15 hours, this functional lamp is a must for literally everyone. Throw it in your glove box, keep it in your first-aid kit, stick in your coat pocket or stash it in your chalk bag, because there will come a time when it will prove indepensible.
Featherweight lamp with two LEDs
Tilt housing directs light where you want it
Adjustable headband can fit around a helmet, hood, neck or wrist
Tested to IPX waterproof standards
15 hours of burn time on a 6 volt battery, battery included it weights in at only 1.1 oz. This thing is barely larger than a book of matches. No reason not to pack one of these along wherever you may roam.
8 Reviews

Write your own Review


Read all 8 reviews