JC Wiregates
Item Details
|
Reviews
(
20
)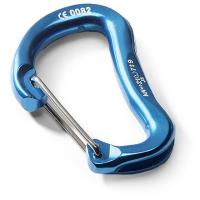 Description
Weighing in at a svelte 41grams, the JC provides the largest rope radius of any carabiner in its weight class.
* Through ISO Cold Forging, Omega is able to render a rope radius of over 11mm, which means your ropes will love these carabiners
* Shrouded nose to help prevent unwanted openings
* Tapered noses for increased strength and spin rivets for smoother snag-free gate surfaces
* CE certified
20 Reviews

Write your own Review


Read all 20 reviews
Review
Review by: kikibatlubbin, 2006-10-02
Nothing to add to the good stuff already mentioned except that they are also wonderful for racking. Because they are larger than most other biners, my nuts are more accessible.
Review
Review by: andrewj, 2005-09-01
best rope-end biner in existence. Clips like buttah, plays nice with the rope, and you can stuff a lot of stuff in this biner because of the funky shape. Sure the major-axis strength is only 21kn, but when are you ever gonna generate that kind of force? In short, never.
Oh, and it's cheap AND lightweight, what more do you want?
Review
Review by: forkliftdaddy, 2005-07-26
Nice rope-bearing surface, but weak. Open gate strength is only 7 kN. Stopped using them.
Review
Review by: taraus_de_bull, 2005-03-08
I have them on all my cams, they clip sooo nice and are very light weight.
Review
Review by: barefooter, 2005-01-09
I love these things. Super Light, Super Cheap, Easy Clipping. I have these paired up with Dovals on all my 24" Trad Draws. I can't decide between JC's or Doval's on which is my favorite.