Joshua Tree National Park
Item Details
|
Reviews
(
2
)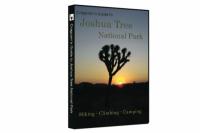 Manufacturer:
CragCam



This item may be available at:
Description
A trip to Joshua Tree is too big to plan from grainy black and white photos in travel or climbing guide books. With over 1200 square miles and almost 8000 climbing routes, there's an incredible amount to see and do in Joshua Tree. Don't just show up at the park then start looking for activities. Hit the ground running by checking out what the park has to offer beforehand.
Cragcam's guide breaks park activities into three easy to explore sections; Off Rock, On Rock and In Camp. From the main menu (shown below) you can select the activities you're interested in for planning your visit to the park and avoid wasted drive time or disappointing long approaches. Day hikes, overnight trips, remote desert floor, palm tree oasis, mountain ascents, top rope areas, isolated crags, classic climbs... it's your vacation, what do you want to see?
2 Reviews
Review
Review by: 1stbelay, 2006-10-11
This dvd is really cool. My wife and I are planning a trip to the park this Christmas and she bought this to look for hikes (she's not a climber). Allllot of information (I'm pushing for a longer trip now than we'd originally planned). Not only did I find some new climbing areas I want to explore but I'm actually stoked for some of the hikes we're planning too. I really dug the climbing time lapses or whatever they're called, first time I've seen that effect. I'd recommend this video to pretty much anyone going to the park.
Review
Review by: vegastradguy, 2006-10-09
[size=12]
Full Disclosure: The company that manufactured this dvd provided it free of charge to RC.com and RC.com then provided it as compensation to the reviewer for his or her review. This company does not currently advertise on RC.com -- 11/07/06.
My first trip to JTree ended up with me climbing three routes in two days and feeling completely lost and confused the entire time. The scope of the park and the layout of it makes getting your bearings in the park difficult at first- especially if you're also a fairly new climber with limited options on what you can climb.

Not too long ago, your only option for visiting JTree was the Vogel guide, which even folks familiar with the park can struggle with- especially when it comes to descents and exactly where some lines start. Many will tell you that this is part of the adventure of Jtree and I don't disagree- I think that it is, but at the same time, a little help getting started your first few times in would be nice.

Enter CragCam and their new dvd guide to hiking, climbing, and camping in Joshua Tree National Park.

When I first got the dvd, I was optimistic that this may be an excellent guide for folks who had never been to Josh before but at the same time concerned that it was strictly for beginners.

The dvd has a nice little intro that is worth watching once but can be skipped on future viewings. It explains the goals of the dvd and walks you through how to navigate each of the three sections- camping, hiking, and of course climbing.

Once you get to the main menu, you have your choice of where to go first. Most climbers will head to the 'On Rock' section. Here you'll find a menu with two choices- a video or a guide. The video is pretty cool and features an interview with Don Reid. The guide is pretty slick- it's an interactive map of the park featuring 10 different areas, including the backcountry area called the Coxcombs. The bulk of the climbing areas, though, are the major areas in the park- Hidden Valley, Real Hidden Valley, Indian Cove, Echo Cove, etc, etc.

Once you pick a section, you get a short intro video to climbing in that area as well as a detailed guide on how to get there and which amenities the area has. It then goes through a run-down of the most classic moderates (up to .10d-ish) in each area along with a video still of the formation with nice topo lines across the still.

The really nice part about this section is that it gives you a full color digital video of both the area and the routes and gives you a good idea where these routes are. In keeping with the spirit of Joshua Tree adventure, though, the dvd does not give you rack advice nor does it give you descent beta on the routes.

The thing I liked most about this dvd was that it covered routes and areas I am not yet familiar with and gave me some great ideas for my upcoming trips to the park. It features info on some off the beaten path areas, how to get there and classics. I also liked how it covers sun exposure- I still have trouble figuring out which routes are going to be sunny at what time of the day!

Although the dvd is not a climbing dvd, it would have been cool to see more climbing done during the dvd guides. The only other downside is that when navigating the map, you have to wait for the dvd to cycle through the numbers on its own if you want to know what area the highlighted number is- although you can jump straight to any number at any time. Folks unfamiliar with the park would do well to click the 'Play All' feature and take some notes….

The other sections in the dvd are of a similar format- a short intro video which covers some history and nice footage of the hiking and/or park, and then an interactive map that allows the user to flip through the different areas and explore them at their leisure. This part of the dvd is well worth exploring as well, if nothing else for information on camping and things to do on your rest days!

Other than that, this is a great little dvd and is an excellent option for both beginning leaders who are completely unfamiliar with the park up to folks who have been a few times but still have quite a bit of exploring to do.

As an added bonus, 10% of the profits from the dvd go to the Access Fund and Friends of Joshua Tree.
[/size]