Jump
popular
Item Details
|
Reviews
(
3
)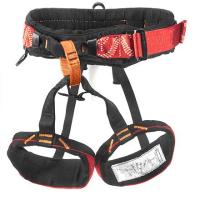 Manufacturer:
Petzl



This item may be available at:
Description
DoubleBack buckle system allows belt to be loosened without unfastening, eliminating the chance that you forget to double back Padded design with wide foam-filled tubular webbing waistbelt and leg loops for supreme, all-day comfort VelcroŽ pre-closure strap holds harness in place, allowing you to easily and properly thread and tighten the buckle Padded leg loops are droppable, so you can change clothes or answer nature's call while still tied in All straps feature tough nylon outer layer for abrasion-resistance and soft, woven inner layer for comfort. Harness includes front belay loop and 3 rigid gear loops for on-harness gear racking.
3 Reviews
Review
Review by: jong, 2006-01-30
Been using mine for three years and no signs of giving up! Beefy, great comfort.. harnais par excellance! I wish Petzl would come up with a re issue of Jump..no changes necessary!
Review
Review by: theakeidah, 2004-06-03
I love my Jump but unfortunately it isn't adjustable in the legs so now it has been bequeathed to my wife. Great comfort like no other.
Review
Review by: christopherjay, 2003-06-28
My first harness. It was on closeout at the gym, so I don't think Petzl offers this specific harness any longer. It was most likely upgraded and named something different.

I was unsure about the non-adjustable legs, but I fell in love with it as soon as I put it on. First of all, it fits perfectly, and second, it's a cinch to get on...no more struggling with doublebacking leg straps! it also has a doublebacked waist strap too. While your buddies are still getting their waist strap tightened, you're already roped up and waiting for them!!

I would look into Petzl's non-adjustable leg loop, doublebacked harnesses!