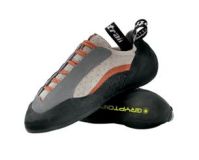 Manufacturer:
Montrail



This item may be available at:
Description
The Karma is a true all-around, performance shoe. The unlined, perforated Perwanger™ leather upper is incredibly tough, light and breathable. The uppers are reinforced with a burly rubberized synthetic that we call Rhino Hide - it is bulletproof and sticky. It protects your foot and the shoe and gives a little extra stick in cracks. The laces are also hidden under the Rhino Hide to protect them from abrasion in cracks. The full-rubber heel protects your foot when you are thrashing around in wide cracks and is perfect for heel hooking. The midsole is made from a sturdy 1.5 mm molded nylon for a nice blend of torsional rigidity for edging and protection in cracks, flexibility for smearing, and durability.
4 Reviews
Review
Review by: theflyingsquirrel, 2004-10-12
EXCELLENT i mean i've tried many climbing shoes and i finally settled with these and they are amazing they ruber is great the rhino hide is just unbelievable they fit like a glove and just all around a good shoe we'll see how long they hold up as far as price goes they are a little expensive but not as bad as some other shoes out there the only drawback for some people would be that the heel pocket is really deep so you might get blisters on the back of your heels if you went a size to small
Review
Review by: cgailey, 2004-07-27
What can I say...they are great fitting shoes, but the rubber sucks! It wears super fast..faster than mad rubber, and it's already peeling off near the toe. I would also like to see a little more edging capability out of this rubber..it is sticky, but it gives more than I would like, causing a bit of edge-smearing...montrail has some work to do yet on their rubber.
Review
Review by: mattiem, 2004-07-05
This shoe is AMAZING!
the rhino-hide makes foot jams solid as can be and the rubber is sticky. These shoes are by far the best i've ever had. I LOVE them. Get some and see for yourself
Review
Review by: nthusiastj, 2004-04-28
So far so good. The rubber is good and they are comfy for all day.