Keron GT
Item Details
|
Reviews
(
0
)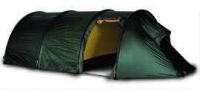 Manufacturer:
Hilleberg



This item may be available at:
Description
Available in three sizes -
2 person: $725.00
3 person: $795.00
4 person: $890.00
The Keron GT is a superb allround tent for summer and winter trips. It is this tunnel type that is being used by professionals when ample space and outstanding performance are required to withstand tough conditions during long periods. Simple in its handling, this model has all the details that are required for top function and dependability. In spite of its generous dimensions the four person version weighs just under 5 kg / 11 lbs!
Many expeditions the world over have relied on the Keron GT. It is well known as a base camp tent in the higher altitudes of the Himalayan mountains and as a mobile home for military special units. Mushers in the northern regions of Scandinavia and North America appreciate its uncomplicated configuration in snowy conditions when speed and simplicity when pitching camp are bliss after a hard day of balancing on the runners of a sledge. And the practical qualities of the Keron GT, like double entrances, are equally valued on a hiking trip through a forest or on a cycle tour. You can easily park two bicycles in the GT-vestibule of the four person version!
The Keron GT is your choice when the marriage of variable weather-suitability is high on your list next to the benefits of nearly endless space. With two vestibules, one being double the area of the standard vestibule, and a roomy inner tent you have the ballroom amongst true wilderness tents!
OUTER TENT FABRIC: KERLON 1800
COLOURS: GREEN AND RED
* min. weight: 3.5 kg / 7 lbs 11 oz packed weight: 4.1 kg / 9 lbs (Minimum weight includes inner tent, outer tent and poles while packed weight refers to the complete tent)
A complete tent consists of inner and outer tent with guy lines and runners, poles, pegs, stuff bags, spare pole section, repair sleeve and instructions.
* inner tent height: 38 in. ~ area inner tent: 31.2 ft² ~ area vestibules: 26 ft² + 13 ft²
KERON GT ADVANTAGE:
~ Outer tent fabric in Kerlon 1800.
~ Inner tent fabric in water repellent and venting nylon.
~ Heavy duty nylon ground sheet with PU coating, high bathtub floor.
~ Pole sleeves with one opening only and room for "double poling".
~ Pole tensioners wide enough for "double poling".
~ Four poles of equal length.
~ Adjustable peg loops.
~ Full size no-see-um netting in both inner tent entrances (with covering panel).
~ Two spacious vestibules (GT-vestibule extended by 80 cm / 32"; great for storage, meals, etc).
~ Full height in entire inner tent.
~ Vertical inner tent entrances.
~ Adjustable vents in vestibules which can be fully closed.
~ Outer tent entrance zipper on standard vestibule covered with flap.
~ Extended GT-vestibule with side entrance; entrance backed by full-size no-see-um netting.
~ Linked inner and outer tents pitch simultaneously - both can also be pitched separately.
~ Two strong guy line attachments and double line runners on each side of pole sleeve.
~ with line runners on vents.
~ Clothes line and pockets in inner tent.
INNER TENT: Pitching of inner tent requires extra pole holders - see accessories.
Keron is the Sami word for grouse. Another variation of the word is Kiruna, a town in northern Sweden.
Equipment
Poles: Aluminum 9 mm dia.
Pole length: 4 x 115.4 in. (293 cm)
Pegs: 22
Stuffbag, pole bag, peg bag, guy lines, line runners, spare pole section, pole repair sleeve, instructions.