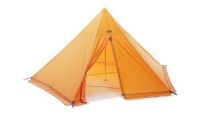 Description
Features:
Tent package includes; stuff sack, pole sack, peg sack, aluminum Y-Pegs, Seam Grip and owner's manual
External snow flaps
Single "eye-lid" style top vent
Optional floor design allows for set-up in tallus and digging seating and platforms in snow
Single UVX window
Five sided triangulation with 2 internal pieces of predetermined length cord to maintain integrity of perimeter
Adjustable, and extra strong Easton center pole
Polyester ripstop body
Watertight zippers on fly
1 Review
Review
Review by: adamtd, 2005-03-05
I used this product on a NOLS expedition in teh Wind rivers in snow, rain, and beautiful weather, as well as in Escalante National Monument. Some people hate it, but I loke it. It sets up quick and breaths well. teh weight is comparable, and I'd love to buy one. Hey, I named my pet rabbit in school after this tent.