Kootenay knot passing pulley
Item Details
|
Reviews
(
1
)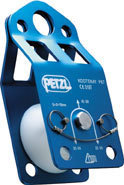 Manufacturer:
Petzl



This item may be available at:
Description
KOOTENAY Knot-Passing Pulley Fitted with sealed ball bearings, the Kootenay is a large pulley which allows the passage of knots in the rope. The Kootenay can also be used as an edge roller to facilitate hauling over edges and to protect the rope. In addition, by locking the sheave using the two pins, the Kootenay becomes a bollard for use as a high-strength anchor. With enough wraps of the rope taken around the locked sheave, the load on the attachment knot is reduced and the full strength potential of the rope can be utilized. Specs : Weight: 1365 g For use with ropes ø < 19 mm Breaking load 40 kN Working load limit 10 kN Standards :EN 12278 Ref.# :P67
1 Review
Review
Review by: philbox, 2003-04-29
This piece of gear is a great addition to any rescue bag. Superbly crafted and has the ability for it to be transformed from pulley mode to static bollard mode with the addition of two pins to lock the pulley in place. I`ve used this on several occassions to make a no knot anchor that enables me to lower the main rap line if a rescue were to ever arise. Quite a versatile piece of gear actually which is used mostly for rescue or height access work. Not something that would ordinarily be used for general climbing situations but where it is needed there is no comparison.

...Phil...