Las Vegas Limestone - Islands in the Sky
Item Details
|
Reviews
(
2
)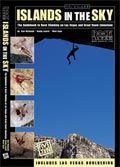 Description
by Dan McQuad, Randy Leavitt and Mick Ryan Published August 2001 Islands In The Sky is the guidebook to climbing on the world class limestone of Mount Charleston, Clark Mountain, the Virgin River Gorge, Mount Potosi and a further 43 limestone cliffs around Las Vegas and the rest of Nevada. Nearly 700 routes from 5.4 to 5.14 are described. The book contains a smorgasboard of climbing images, over 130 action photographs. It is the most definitive and comprehensive guidebook to the area, and was written by local experts and new route activists Dan McQuade and Randy Leavitt, and Rockfax USA's Mick Ryan.
2 Reviews
Review
Review by: granite_grrl, 2006-07-19
Used this book twice. Once trying to get to some of the crags NE of vegas, but too many things had changed to find them. The next time we went to the cliffs on Lone Mountain. The grades seems totally out of wack for the all the climbs we did.
Review
Review by: actionfigure, 2004-08-19
Great photos.