Lightsabre
Item Details
|
Reviews
(
1
)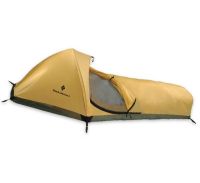 Description
Lightweight fabric and two DAC Featherlite poles add up to a one-pound, four-ounce bivy shelter. With a footprint based on the Bibler Tripod Bivy, the Lightsabre is the ultimate setup for minimalist climbers or situations needing a backup bivy. An Epic* canopy creates a breathable barrier and a SilNylon floor offers unsurpassed resiliency. Screen netting allows for stargazing while managing pesky insects. The Lightsabre is our lightest and most streamlined two-pole hoop bivy sack.
1 Review
Review
Review by: musicman, 2004-05-25
I love this tent. The price is acually pretty good considering other lightweight bivy's and black diamonds other tents. It sets up in like 3 minutes and is packed in less than one. I'm not even exagerating. This is great for long backpacking trips where weight/size is an issue. Its only a one person tent which i suppose is a downside but it is acually quite cozy in there once you get in. Great tent! Do realize that this is NOT waterproof but really water resistant so during a heavy strom you will get wet but not very wet. I slept in my backyard and the sprinklers just drilled it all night and when i woke up there was a little pool of water by my hip and that was all, just turned it inside out and shook and it was dry and ready to go!