Lucky Austral Screwlock Biner
Item Details
|
Reviews
(
3
)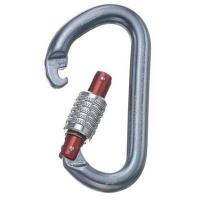 Description
The Austral is a compact locker that loads along the spine. Its relatively compact shape is great for setting up anchors, attaching ascenders and belaying (the basket is less acute and approaches the shape of a mini-pear). Strength of 25kN with closed gate, 9kN with open gate. Gate opening of 1.8cm. The screw gate must be manually engaged to lock the carabiner. CE approved. Weight: 75.0 g
3 Reviews
Too fat, gate opening too small
Review by: ihategrigris, 2006-11-30
Doesn't fit chains, fills up anchor bolt holes, it's TOO FAT! Also, the gate opening is pretty small, which can be annoying at busy belay stations. Not recommended for anything aside from top roping.
Its a fine biner.
Review by: alexmac, 2006-11-30
It is a fine biner, cheap and dependable, I use for top roping and it is a bit on the heavy side, so I agree with jumpingrock review.
Decent cheap biner
Review by: jumpingrock, 2006-11-28
This is a good starting locking biner. However, it is heavy and doesn't fit in chains. Beyond setting up top-ropes I don't use it.