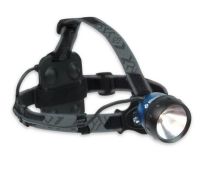 Description
The Lunar is a reliable and simple xenon headlamp providing all the features of the Gemini without the LEDs. The xenon bulb offers superb beam-chucking capabilities and is mounted in a durable housing. Its prismatic reflector directs a smooth, even light without any black holes or rings. The Lunar is an ideal choice for a no-frills headlamp when you might need to investigate that bump in the night. Other bulbs are available.
Compact, integrated design won't weigh you down
Long-Life Xenon Halogen bulb supplies 7 hr. burn time
Prismatic-coated reflector for even brightness
Tested to IPX waterproof standards
3 Reviews
Review
Review by: petsfed, 2005-03-27
Eventually it shorted on me, but it was a good, cheap, light lamp while it lasted. Got destroyed more by removal from the pack than actual use.
Review
Review by: frantik, 2004-03-11
A good headlamp at a great price. I am not the biggest fan of the back of the head battery pack. It is one bright lamp for the price. Only water resistant. If the battery pack is submerged it will take in water...don't risk it.
Review
Review by: wlderdude, 2004-02-20
For $20, you are hard pressed to find a better headlamp.
It is light, durable, reliable and cheap.
If you want an LED, you can actually add it yourself. This is just a Gemeni without an LED. The switch has 2 positions and the hole is there. Just be sure to add a resistor.