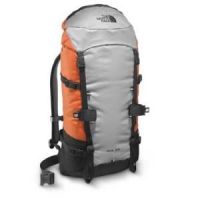 Description
The North Face MG 35 Backpack - 2150 cu in, is a day use alpine pack perfect for backcountry ski excursions in winter, and all season mountaineering. A removable bivy pad doubles as this pack's structure and sleeping pad, for those unforeseen overnight stays, and adjustable ski slots on the side allow for a wide range of ski widths. On any backcountry/mountaineering trips, it's good to have some food with you, and the side pockets on the MG 35 are perfect for holding said snacks. The North Face has even included a clear map pocket under the lid to help you stay true to course.
2 Reviews
Review
Review by: speedywon, 2005-04-25
Great for short trips to the crag with a small amount of gear (won't quite hold a 60m rope, rack, harness, and climbing shoes). It keeps the load close enough to your center of gravity that you can comfortably rapel with it on.
Review
Review by: frantik, 2004-02-15
A good stif pack with one of the slimmest profiles I have seen. Wears tight and holds the load right against your back. This makes it great for long scrambbles. The waist belt offers a lot of support considering it is only 2" webbing. The frame sheet is removable and can be used as a bivy pad. I outfitted mine with underarm gear slings for use when wearing it climbing. Lots of options for exterior lashing too.