MK1 Lite
Item Details
|
Reviews
(
1
)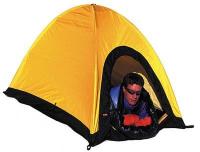 Description
Ideal for one person plus gear or two at a squeeze. Options and features are kept to a minimum to eliminate weight and bulk. The door is only 26" high with an outside integrated no-see-um mesh screen. The door zipper is completely protected by an elasticized weather flap. The floor is made from a 70 denier, 1.9 oz taffeta nylon, 1/2 oz urethane coating. There are two tunnel vents, one on each of the upper side walls. Extra tie points are located at the top of the tent and midway up each of the pole seams. The MK 1ís perfect parabolic shape provides the optimum amount of internal space for the minimum amount of material usage. It can be set up in under two minutes in just about any spot where you choose to make camp. The 46" x 82" floor will fit onto the tiniest of campsites. With 42" of headroom at the apex, this is a comfortable tent to hang out in during bad weather. Due to the angle between floor to apex, the usable floor space is not long enough for people over 6ft tall. There is no vestibule attachment on this model. Comes with six Easton 8" long light weight tubular aluminum stakes and four 10-foot lengths of 2.2mm cord.
1 Review
Review
Review by: physics, 2006-07-29
This is an all around excellent tent. I have used many other similar single wall tents including the Bibler I-tent and BD Firstlight and regard the MK1 Lite as far superior in both design and quality. A mesh door screen and two small mesh pockets on the inside are the only bells and whistles present on the tent - this minimalist design is appreciated when you are carrying it on your hips b/c the weight is significantly less than all competing single wall tent models. Its lightweight comes at no sacrifice to durability as the seams are tight and bulletproof. I have used in all seasons including at least 8x during winter and never had a worry. I must add on one occasion in winter 80+ mph winds snapped a tent pole but the rest of the tent, guideline ties and all, did not tear during the time it took to temporarily fix the pole. Additionally, the customor service with Integral Designs (B.C., Canada) was next to none when it came to getting the pole fixed/replaced. Sleeps one comfortably and two if you want to get close (and stay warm if in winter). If you are 6ft1in or longer, you probably want to go with the slightly longer MK1 XL.