Mad Pad
popular
Item Details
|
Reviews
(
27
)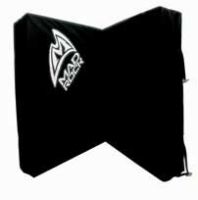 Manufacturer:
Mad Rock



This item may be available at:
Description
Size does matter. The Mad Pad features two different high grade PE foams for increased shock absorption, and is sized so you just canít miss it on the way down. Shoulder straps make for easy carrying and the metal buckles just will not break. Get the Mad Pad and be proud of it, we certainly are.
The pad is 36" x 48" x 5" it has backpack style removable shoulder straps and turns into a couch (crazy creek style) 3 Layers of foam.
27 Reviews

Write your own Review


Read all 27 reviews
Mad Pad
Review by: w_weezer, 2006-12-23
so, ive had this pad for nearly two years now. And from the start ive tried to beat the hell out of it, At alot of the places i climb, you have to hick down to the climbs from up above, well, we usually just thorw the pad over the cliff, and after tons of thirty foot falls, it only has a coupl einch long tears, not bad. It has all the padding you'd need, all that crap you hear about hurting your ankle from landing on the seam is jusat that, Crap. now, i wouldn't want to land half on the edge of the pad as you could roll and ankle, but that could happen on any pad. It is a bit slicker than my dropzone, but alot cushier, and i like that. i hope to get another one in the near future, velcro 'em together and have a huge pad!!!
Mad pad
Review by: climbnpuke, 2006-12-20
This pad fell apart after 3 weeks in Hueco, It is made of 420d pack cloth, the same stuff cheap packs are made of. The foam is not good quality and so thick that if you land in the gutter or on the edge you will for sure break you ankle. you get what you pay for
Review
Review by: adamdouze, 2006-06-17
Inexpensive. The velcro lets you join with other people to make one huge pad. It's easy to carry. I even use the little piece of carpet that some people take off to wipe my shoes before a climb.
I think this might be the best pad ever.
Review
Review by: mushroomsamba, 2006-06-12
this was my very first pad. I still use it after allmost a year of use and it's lasted hundreds of falls and still is in great shape. a 5 all the way.
Review
Review by: hatman, 2006-01-27
tuns in to a couch, awsome buckles, great straps and despite what others have said mine came with a great velcro on carpet for your shoes!

I have not used it much yet but it seems great!