Madame Hook
Item Details
|
Reviews
(
2
)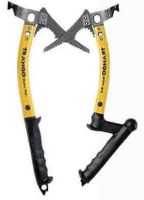 Manufacturer:
Trango



This item may be available at:
Description
There's a lot of hype out there about leashless ice climbing, the Euro's are nuts about it and nobody in the US is sure what to think. The one thing we do know is that everybody who has tried it thinks it's great: those who haven't don't think much of it…yet. So we designed a tool that lets you have it both ways. Bolt on our Leashless Handle and you'll enjoy freedom from the leash. Place the tool solidly, then use it as an apparatus to climb up on. Match hands, hook your knee, mantle up on it, switch hands and enjoy! Jeff Lowe designed our Teardrop Grip to easy to hang on to and control, with or without gloves, and the rubber covered dogleg is a great platform for hand switches, leg hooks and palms. No other tool even comes close to offering so many solid hand positions. When you get tired of the fun, or if your going to cruise an all-day route, bolt on the Straight Handle, attach the Clutch Leash and enjoy the security of our regular Captain Hook.
Above price is for the set.
2 Reviews
Review
Review by: jimdavis, 2005-01-25
Very good tools. I've only climbed leashless on them, but they're great. The swing is very natural, and didn't take more than a few swings to get the feel for it. With these tools it is a "swing" not a "stab".

The lower grip is very comfortable and large enough to match both hands on if you really want to. The joy knob is great for manteling off of, and its a nice change to wrap your hand around the bar and get a horizontal grip for once.

The picks perform very well. They sink into Ice very well, and they drytooled very well (no mods).

You may notice that the uppers are not as bent as the Fusion or Ergo. It is more than enough clearance IMO. I am taping the shaft up so it'll be easier to grab up there (plenty of room).

Their only shortcoming is that the pronounced "joy knob" detracts from matching hands on the upper grip. It gets in the way and if you want to match on the shaft (rather than the joy knob) you'll have to choke up. So, the upper pinky catch is all but useless to me. A little grip tape is all I need though.

Despite this shortcoming, I'd take these tools over any other I've picked up.

A lot of people complain about the weight with these tools...it's fine with me I get great sticks with it. You can pull the hammers off if you want to cut weight, I'm not gonna bother.

The ability to switch to a leashed tool is a HUGE bonus to me. You can put the leashless handle, straight handle, or the new Mantis handle on... that's just awesome!

The Trango logo will probably peel off on you; only a decal, not paint; but I really recommend these tools!
Review
Review by: mother_sheep, 2004-12-28
I LOVE THIS TOOL! It's the perfect tool in my opinion. I'd even use it for alpine, only after converting the handle for leashed climbing. It's perfect for getting over buldges, manteling, torquing. . . The MHs are not too heavy either.