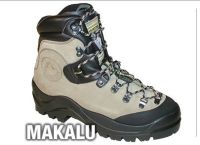 Manufacturer:
La Sportiva



This item may be available at:
Description
FOR General purpose mountaineering and heavy backpacking FIT Rollerball hardware and a locking D-ring allow independent fit in the lower and upper portions of the boot GRIP MPE sole is crampon compatible, deep lugged and tough as nails for years of service in the harshest conditions FUNCTION 3mm Idro-Perwanger leather with rubber toe rand for durability and protection in all mountaineering applications
5 Reviews
Review
Review by: cornish_retard, 2006-05-27
Awsome boot. Used for heavy duity hiking on wet/boggy ground. They took a while to set up and break in, but have never given blisters. I use them in conjunction with Berghaus Yetis and they carry them really well. Too warm for sunny summer days, but I would reccomend them to anyone who is serious about hiking
Review
Review by: mattyp, 2006-03-07
I love this boot. My entire unit wore them in the mountains of Afghanistan while deployed there this past year. It held up wonderfully in the rocky, rough terrain there. It was warm enough to keep my feet from going numb while in the snow. Very comfortable and provided great support carrying loads of more 100+lbs on my back. Highly recommended! A little tough on the break in, but not more than usual.
Review
Review by: yrekaclimber, 2006-01-17
i love this boot. its all i hike in. its sure footed on rock and grips well on the loose stuff as well. i have climbed mt shasta in it and have put many many miles on it. if this pair ever wares out i will only buy another pair of makalus!!!
Review
Review by: jonoj, 2005-10-31
Excellent boot for mountaineering and for use with step in crampons. Rigid sole makes downhill hiking a bit unpleasant I found, providing little cushioning for the ball of the foot.
Review
Review by: adamtd, 2005-03-05
A great heavy duty backpack/trekking boot. If you're carry heavy loads off trail this boot rocks. Once broken in, it is so comfortable, I could almost wear it around town. Semi stiff so you can put crampons on it, I certainly wouldn't use it for extended steep snow field climbing. I love these boots and would recommend them to anyone, but don't think they're light duty, they are defintely heavy duty boots, but a good all around boot.