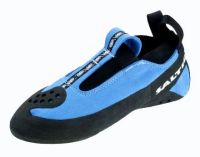 Manufacturer:
Saltic



This item may be available at:
2 Reviews
Review
Review by: ghisino, 2006-05-10
this is an ultra-soft slipper, designed primarily for training on gym walls.
Very similar to LaSportiva Mantra s, but not as downturned nor as asymmetrical, wich means it doesn't "grab" footholds in the same way.
Still has a minimal intersole, and the syntethic leather won't stretch very much...this means that, if used by strong-footed climbers, it will edge quite effectively, with the drawback of some foot fatigue.
On the other hand, top-grade smearing and sensitivity. The rubber seems to be (on plastic) as sticky as vibram or just slightly less, but it loses grip in a very progressive way, making you aware that it is going to slip off a second or two before it does.
The heel is very soft and might disappoint some in first place...however, it seems to fit very well and hooks in a decent way once you get accustomed to it.
Downsize aggressively : get the tightest you can!!!
Review
Review by: incogneato, 2004-05-04
No text provided