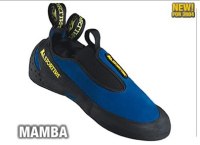 Manufacturer:
La Sportiva



This item may be available at:
Description
The Mamba is a slipper with performance features you would expect on many $100+ shoes! Easy-on/easy-off slipper convenience is combined with a roomy toe box for comfort. The Mamba is slip-lasted with an unlined upper for comfort out of the box. Sticky 4mm FriXion® rubber provides the perfect balance of stickiness and durability. With all these performance features and legendary La Sportiva quality, the Mamba offers killer value with performance!
Color Yellow
Upper Leather
Construction Slip Lasted
Last RLN55
Lining Forte in the toe box only
Sole 4mm FriXion® Green
Midsole 1.8mm full length Savium
Weight 19 oz.
Sizes 34–46 (including half sizes)
1 Review
Review
Review by: duckwalk, 2005-03-22
3 out of 5. I bought these mainly to play in the gym and for multipitch moderates. They are definately comfortable enough for multipitch. The lined toe is nice because your toes don't push up in the leather which means your shoes will fit into those thin hand cracks easier. The fit is much wider than on my other sportivas ( focus ), and may be too wide for narrower feet. This affects standing on the inside of the foot but the toe area can stand on just about anything. They can boulder hard and handle steep stuff well. Can get for 50 bucks on sportiva site, for now, which adds to the appeal. EDIT: the lining has a tendency to come unstitched from the toe area. It happened once, they replaced them, then it just happened again and I ripped the whole lining out and will just climb with them like that for the rest of the sole life.