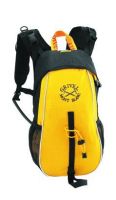 Manufacturer:
Grivel



This item may be available at:
Description
This simple and efficient idea combines a vest-style double gear sling with detachable miniature rucksack. The gear sling -- made from die-cut contoured foam and reinforced nylon sling -- allows comfortable transport of an otherwise awkward quantity of gear. Use the rucksack to carry shoes for the descent, car keys, water, snacks, or rain gear. Or leave it at the base but take the gear vest with you. The unique attachment system allows you to access contents of the pack without removing it. The rucksack (without the gear sling) can be attached to the Alpine and Alpine Light packs to increase capacity.
2 Reviews
Review
Review by: nostalgia, 2004-07-17
This is the coolest pack I've owned. It's got a hydration pocket big enough that my 1.8l Platypus gets lost in it. I store my first aid kit on top of it.
There's a surprising amount of room in this bag. I usually stuff my harness and shoes inside to run to the gym. Today I put 50' of webbing in the bottom, and still had room for my shoes, harness, first aid kit and hydration unit.
The coolest thing has to be the detachable gear sling. You can clip all of your gear to the gear loops that are on the shoulder harnesses. When you get to the crag, just unclip the pack and you're wearing the gear harness! How cool!
And a pack like this for $40? I love it.
Review
Review by: taualum23, 2004-04-26
Just got mine in, and rushed out to a short area where it is really not neccesary, just had to test it out. Really terrific, smart design. I have always had a big problem keeping gear organized, and wished for something other than an over-the shoulder sling/pack/clipping crap to my harness for long routes. Well, this is perfect, and allows me to also carry a medium sized hydration unit, shoes, a snack, and a belay jacket/windshirt in a comfortable, high-riding package. I can't wait to actually need to use it.