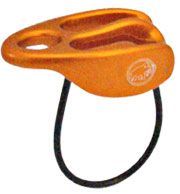 Manufacturer:
Mammut



This item may be available at:
Description
Finally a belay device made for skinny ropes... from 7.5 mm to 10.5! Perfect for your new high performance super-thin single or a pair of twins or doubles. Each slot is a tapered elongate oval to provide the correct braking power for each one of your ropes, wet or dry, sport, trad or alpine. Easy to set up in "auto-locking" mode also... by clipping the carabiner hole of your MATRIX directly to the master point of your anchor. Now you're ready to belay one or two partners up with a bit of extra assurance.
3 Reviews
Review
Review by: maxclimber1w, 2005-09-26
Good device. I would recommend rigging the device backwards (in the picture above, have the carabiner that the rope goes around at the top of the device, instead of at the bottom). This makes the rope feed much more smoothly.
Review
Review by: xclimber, 2005-07-18
My experience is a little different than all_that_is_rock. When using the Matrix to belay topropes with my Sterling 9.7mm it kinks the rope severely. I switch to the Reverso and voila! Kinkless. I haven't given the Matrix a serious run on multi-pitch, but am very familiar with the Reverso and Reversino. I can't imagine it being much better. I'll reserve judgement until then. It does give better braking action on the 9.7 as the Reversino is too small, and the Reverso is a little too free...
Review
Review by: all_that_is_rock, 2005-04-04
This little puppy is my new favorite belay devise. I also own a petzl reverso and think that the matrix works better for both lead belays and autoblock mode. I use it for my 8.5mm doubles as well as my 9.8mm single, and it works smoothly and eficiently for both. it claims to be able to handle ropes down to 7.5mm, but I think that would be a fast rapell seeing as it is already quick on my 8.5mm ropes. The friction when pulling the rope up (to belay the second) in autoblock mode is about the same as a reverso, although I dont know how it would behave on a thicker rope (the holes are thinner than a reverso seeing as it is designed for skinny ropes). I dont know if I would recomend this belay devise if you plan on TRing or sport climbing all day on 10 and 11 mil ropes, but if your like me, and spend all day doing multipitch with thin ropes, than this devise is the best thing I have found yet