Matrix Locker
Item Details
|
Reviews
(
1
)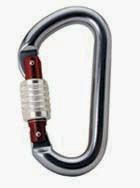 Manufacturer:
Metolius



This item may be available at:
Description
Classic D shape aligns load along the strong spine-side.
2.9 oz (82 g)
Major Axis Strength: 5625 lbf (25 kN)
Minor Axis Strength: 2025 lbf (9 kN)
Open Gate Strength: 2025 lbf (9 kN)
1 Review
Review
Review by: takanhase, 2005-11-15
This IS the smoothest locker on the market. I had a climbing partner ask if it had ball berings in the locking ring. I have used mine almost every trip for the last four months for everything fron top roping to anchoring myself and seconds to backing up my first pice of pro. the only down side is that I wish there was a larger size for belay and rappeling as this one would put strain on the gate with two rope ends running through it. al and all I will buy more of them as needed to replace these ones once they have worn out. The other down side that I have found is that it's a bit hevy and the gate is quie stiff but that has only been a problem when trying to clip the anchors for a b.u. ontop rope set ups on routes when you are already pumped out.