Mega Pack-36 holds
Item Details
|
Reviews
(
3
)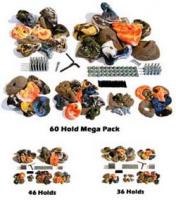 Manufacturer:
Metolius



This item may be available at:
Description
5 Screw-On Footholds
5 Screw-On Handholds
12 Micros
10 Modulars
4 Mini Jugs

3 Reviews
Review
Review by: mgoodro, 2005-04-05
Great price, especially if you use an REI 20% off coupon. Other then getting a plate instead of a roof jug I got a better selection than I expected with this set. I also ended up with some hold types that I wouldn't have tried otherwise and am quite happy with now. However, I wasn't really happy with my wall (room) until I hand-picked another 60 (or so) holds myself.
Review
Review by: ringfinger, 2004-06-22
This pack works well for someone just starting a home wall, and is a great value. An excellent choice for a starter pack. Includes all hardware.
Review
Review by: flyinghatchet, 2003-08-14
No text provided