Men's Classic Bluewater Short
Item Details
|
Reviews
(
1
)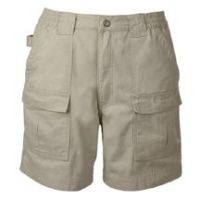 Description
Made from heavy 8.5-oz. Billy Goat™ canvas saturated dyed. Back up button fly. Heavy-duty bartacking. Double fabric in the seat. Plenty of pockets with hook and loop secure closures, while the tool strap lets you hook on extra gear. Inseam is 6.5".
1 Review
Review
Review by: cintune, 2005-06-01
Bought my first pair over ten years ago and they're still holding up. The only item of clothing I've ever liked enough to warrant a review. Comfortable, versatile, and virtually indestructible.