Metal Jack Cams
Item Details
|
Reviews
(
3
)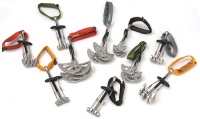 Manufacturer:
Ocun



This item may be available at:
Description
"The single most appealing feature of the Metal Jack design remains the incredible expansion range provided by the single axles, which, by allowing us to use larger cams, enable each Metal Jack to fit a remarkable range of cracks. All units have radiused teeth that increase cam durablitiy and holding power. Their extra width also makes them very stable in the long parallel-sided cracks you will encounter."
3 Reviews
Review
Review by: data118, 2003-07-27
I have the full set. Ordered through Pagangear.com and got 10 Camp bent gate biners to rack them with. Similar to to Friends, but the trigger action is not as smooth and the trigger bar could be bigger, and I have thin skinny fingers. I guess you get what you pay for, but I still think it's a great deal; you definitely still get more for the buck, especially in the bigger sizes. Great as a second set or fill in missing sizes.
Review
Review by: pirateclimber, 2003-07-13
I purchased the .5, 2, and 4 to fill in the gaps of the Clog Cams I couldn't find on sale. The sizing and design by the way is exactly the same between these two brands. As of this review I've been leading on them for 6.5 months and no complaints. They are essentially the same size, range, feel as Clog/WC Tech Friends if you need to make a comparison. The only thing I have found to be a concern so far are the springs. They are soft in comparison to the Clogs/WC and may prove to be a factor in wear down the road. I'll let you know in five to ten years!

Pro: Cam Stops, Price ($29/ 10 for $269), Range and number of units.

Con: Soft Springs
Review
Review by: jacobs, 2003-07-13
they suck my buddy has 2 the tiger sticks they are worthless.