MicroNut (BD)
Item Details
|
Reviews
(
2
)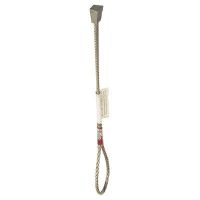 Description
Perfect for tiny aid climbing placements and even hard to protect free moves, these small stoppers are less prone to shearing due to their copper-steel construction. The sides are straight but each piece features a transverse taper which helps to seat them in flaring placements.
Colour coded swage covers.
Steel cable.
3 sigma tested.
CE certified.
Available in 6 sizes.
2 Reviews
Review
Review by: forkliftdaddy, 2004-10-29
great gear when used properly. these are not gear for soft/friable/questionable rock. these are for HARD rock. i get good use out of these on quartzite and meta sandstone, but wouldn't risk it on soft sandstone. i think the hard metal would rip through the rock.
Review
Review by: wildtrail, 2004-05-09
What can one say? It's a Black Diamond product and they don't get much better than that. I have a set of micros. The reason I give it a "4" is the same reason I give ALL Black Diamond equimpment a "4". Because their equipment is too expensive. I've placed these little babies before when it get's "thin" out there and they place and set well. However, going into aid climbing now, I'm sure by the end of the 2004 summer I'll have another review to offer.