MicroZoid
Item Details
|
Reviews
(
2
)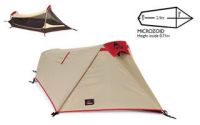 Description
The lightness of a bivy sack without the garment-tight fit. In fine weather, the MicroZoid can be set up without the fly to reduce overheating and keep bugs out. The large side vestibule features a versatile four-way door system, including a cunning side entry that lets you roll into the tent rather than having to wiggle down the front. High and low cross vents help minimize the condensation that is the bane of most single-person shelters.
Features:
Fits one person.
Floor is made of 70-denier nylon, polyurethane-coated for waterproofness to 5000mm.
Fly is made of 75-denier polyester taffeta, polyurethane-coated for waterproofness to 1500mm.
Canopy is made of white, 190-count, 70-denier ripstop nylon, undyed for greater strength and to reduce dye effluent use, which is harmful to the environment.
All exposed seams sealed.
Poles are made of DAC Featherlite 7001-T6 aluminum
Floor area is 1.5 sq.m and vestibule area is 0.3 sq.m.
Minimum weight is 1.34kg, packaged weight is 1.41kg.
Packed size is 14 x 39cm.
Footprint sold individually
2 Reviews
Review
Review by: thetroutscout, 2006-02-19
I've been using mine consistantly the last two years. I'm 6'1" and if I were any bigger I may not fit well. This tent is very small but quickly makes up for it in weight and pack size. It isn't free standing but I have yet to be in a place where that has been a problem, ranging from above the timber line to the sand dunes. Its a little tricky getting into at first and even harder to dress in. The vestible isn't huge but I usually leave my pack under it's own cover. I've had it rain for three days straight and no sign of anything getting past the rainfly. You have to stake it and guy it out taut but it works. It vents well and I've never had any condensation problems. If a lightweight, small, solo tent is what you want then look no further. There's no luxury of extra space but this tent will keep you dry. When I'm going fast and light I always take my microzoid. My friends make fun of "the coffin" but when they see my tent packed down to 4" x 18" and 2.5lbs they stop laughing.
Review
Review by: tattooed_climber, 2003-04-04
AWESOME TENT!!!!!!
OR TWO...

I must say, this is the coolest little tent around. I do alot of solo hikes and mountaineering projects in the summer and spring so this tent is aweome. It weighs about a Kg but I ended up paying 230$ Canadian for it (from MEC) but worth every penny. Had this in P*ss-pouring rain and I've had it in little snow conditions. Works great, but size is always a factor. I'm 6'1" and I just fit perfectly (my heels and head are both within 1/2 an inch of the ends of the tent. As well I can't sit up in it).

Well, in the name of Lightweight hiking/treking/Backpacking/mountaineering or whatever you may do, the size cut-downs will cut down in the weight you're humping over them mountains.

Now, a problem I thought when I first got this tent was where my pack will go (I own an Arc'Teryx Bora 95 tall, a big pack) but lucky it manages to fit under the Vestibule, with some room for my boots. Idealy, you probably don't want your pack leaning against the Vestibule roof (the fly) because the condensation will get your pack wet, but my Bora 95 can handle anything, so its not a worry for me, but if you have a crapy pack, make sure its small or bring a trap for it.

But overall, this tent is one of the best I've ever used. Down side, is if i go out in the mountains with a friend who doesn't have a tent....I have to rent one in this situation. MSR is a great brand, lucky for me and other Canadians, is that @ MEC you can rent Pretty much anything they sell there so its a great way to try out tents and other gear there.