Micros Set 1
Item Details
|
Reviews
(
1
)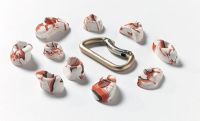 Description
These small wonders will help improve your footwork and develop phenomenal finger strength. The smallest of the Micros line, these holds make great footchips on any wall for any level but were designed to also be used as small handholds for advanced training.
1 Review
Review
Review by: okie_redneck, 2004-06-22
My least favorite in the set of 3. They have nice texture, but I don't find the shapes to be much different than other brands. I actually use some of these at the base of my wall for foot chips, which is not the case with the other 2 sets.