Micros Set 2
Item Details
|
Reviews
(
3
)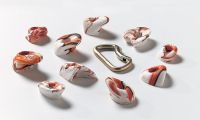 Description
While still on the small side and generally larger than Micros Set 1, these babies have lots of incut edges for technical finger moves or for way-hard boulder problems. Try these on a 45° wall and watch the progress.
3 Reviews
Review
Review by: scubasnyder, 2005-02-14
these holds are pretty awsome, good friction, my favorite is the 2 finger pocket but also the one crimp is nice.
Review
Review by: gecko_girl, 2004-08-16
I've bolted a few holds in my hallway wall, and these holds are perfect!
Review
Review by: okie_redneck, 2004-06-21
I have large holds near these things that I'm not even using anymore. The texture and shape are very friendly. I've stopped using my hangboard lately because I've finally found small holds that I can use everyday.